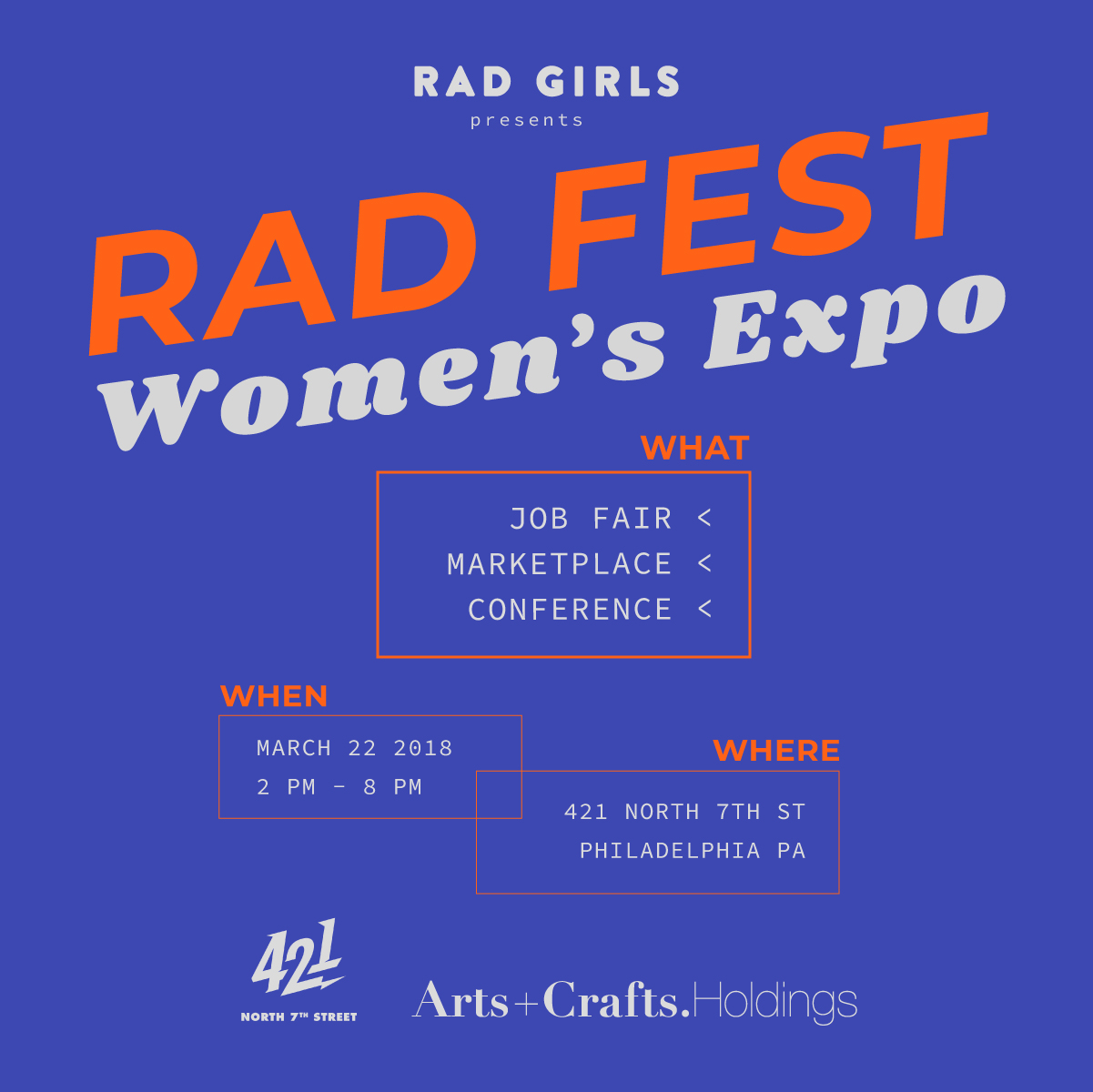 Equal parts job fair, showcase, market, and conference, the inaugural Rad Fest brings together women-led businesses and ideas for a productive day of networking and celebration in honor of Women's History Month.
Rad Fest is an ideal opportunity see what the most innovative businesses in the area are working on, and grasp the inspiration and momentum you need to energize your career.
Join us for enlightening panel discussions on wellness, empowerment, and driving change in the workplace.
RAD FEST SCHEDULE
2:15 - 2:30: The Criticality of Confidence
Jessica Campagna, Associate Director of Regulatory Affairs, Allergan
2:30 - 3:00 Brand Matters
How to create a content strategy that sets your brand apart.
Amber Burns, Visit Philly
Laurie Satran, Digital Director of STARR Restaurants
Karina Kacala, Marketing Manager at Opera Philadelphia
Sofiya Ballin, Journalist
Moderated by Melissa Alam, Founder of Femme & Fortune
Performance by Jasmine Combs
3:30 - 4:00 Everything You Need To Know About Networking
How to Build and harness a meaningful network.
Kristin Dudley, Founder of Co-Create
Jennifer Devor, Director of Marketing, Campus Philly
Meredith Waldman, Founder of Rally
Rebecca Etter, Senior Manager of Innovation at Acelerada
Moderated by Lisa Vaccarelli, AVP Alumni Relations, Temple University
4:10 - 4:30 How To Start A Movement
With Kiera Smalls & Takia McClendon, Founders of City Fit Girls
4:30 - 5:00 The Power of Global Citizenship
How to take an active role in your community to make the world a more equal place.
Amber Hikes, Executive Director, Office of LGBT Affairs
Jessica Craft, Founding Director of Rock To The Future
Shira Walinsky, Mural Artist
Stephanie Lim Capello, Chief Revenue Officer of the Girl Scouts of Eastern Pennsylvania
Moderated by Lansie Sylvia, Senior Strategist, J2 Design
5:15 Speaker: Karin Copeland
Executive Director of the Arts + Business Council of Greater Philadelphia
5:30 - 6:00 Women in Entrepreneurship
How to mobilize a team around your vision.
Yasmine Mustafa, CEO & Co-Founder of ROAR for Good
Tiffanie Stanard, CEO & Founder of Stimulus
Bethany Edwards, CEO of Lia Diagnostics
Prasanna Krishnan, Founder of SmartyPal
Moderated by Yuval Yarden, Director for Ecosystem Engagement at Global Entrepreneurship Network
6 - 8 Network and party with DJ GUN$ Garcia!
Note: This schedule is subject to change
MEET OUR EXHIBITORS
Become a Rad Fest Volunteer